---
Functional snap fasteners that can add value and enhance your branding. Our guide takes you through the key design considerations.
---

---
1. Snap Fastener Styles
---
We offer four key snap fastener styles to suit various looks and applications.
S-Spring
A four part snap fastener set suitable for a range of garments.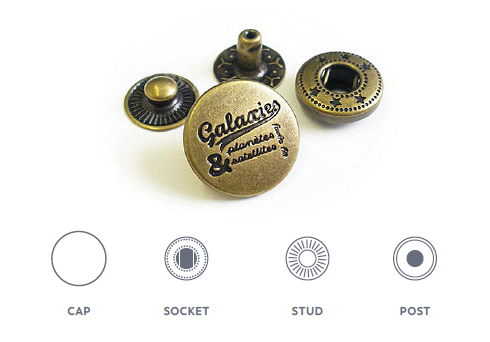 Ring Spring
A four part snap set offering a stronger closure than s-spring.
Donut Style
A four part snap set offering branding on the stud and socket.
Two Part Sew-on
A lightweight two part snap sew-on rather than machine applied.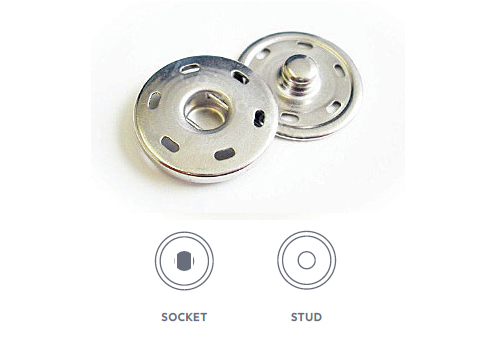 ​
2. Cap Style & Design
---
Our custom snaps allow you to design to your specific requirements
with various cap materials, styles and design options available.
Cap Material
There are 2 material options for the cap of snap fasteners – brass or
die-cast alloy.
Brass is a thinner, lighter material and is most suitable where
basic text designs are used whereas die-cast alloy is thicker and offers a stronger cap.
Cap Styles
The cap of your snap fasteners can be flat, domed or have a chamfered edge.
Cap Design
Your design can be engraved, embossed or lasered on to the snap fastener cap.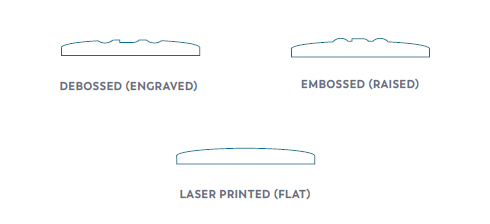 ​​​
3. Size
---
Cap Size
The typical sizes for snap fasteners are 10mm, 12mm and 15mm
diameter for the cap with underparts to suit.
Post Length
Standard post length is 3.5mm, but for thicker materials, we can also
offer a 5.5mm post.
Furthermore, we can supply with an additional plastic washer for
thinner fabrics providing a buffer between the metalware and the
material.
---
4. Colour & Finish
---
Snap fastener caps can be finished in a range of metal colours as as well as enamel and rubber coated colours.
Underparts are usually supplied in either Antique Brass, Nickel or Black Antique Copper, whichever best compliments the cap colour.
Standard finishes include Antique Brass, Pewter, Antique Copper.
Polished finishes include Polished Nickel, Gunmetal, Rose Gold
Enamel and Rubber coated finishes can be matched to Pantones or swatches.
---
5. Attachment
---
Machine applied snap fasteners are supplied with a 4-part die-set for attachment.
The die-set can be produced to suit your press machine.
---
---
We are sure with so many options available to you that we can create snap fasteners that suit both your application and brand.
If you would like to download our full PDF design guide for snap fasteners or any other of our product areas, please get in touch.
For further inspiration, visit our metal trims page – ukpaccessories.com