Always keen to bring you the latest fashion branding trends and developments, we are excited to show our new range of aluminium teeth zippers.  These zippers offer a lightweight and eco-friendly alternative to brass without an increase in price.
Lightweight & Smooth Action
With the teeth made of aluminium, rather than brass, these zippers offer a lightweight zipper with a smooth action while maintaining the strength and durability you are used to from brass zippers.
Aluminium also boasts a range of other properties including being recyclable, non-toxic and resistant to corrosion.
Environmentally Friendly
Using aluminium for zipper teeth adds a level of sustainability to your garments, being amongst the most environmentally friendly materials on the planet. Additionally, we can supply zipper tape made from recycled polyester threads.
Aluminium is 100% recyclable, used again and again without any loss of quality. The energy savings of recycling aluminium compared to producing the new raw material is around 95%.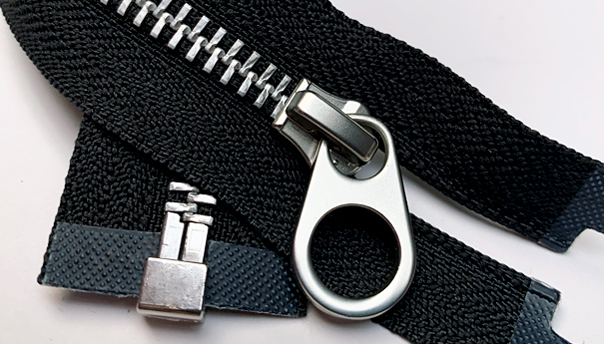 Bespoke Specifications
Aluminium zippers are available in 3 sizes – #3, #5 and #8. Closed-end and open-end functionality are possible with an auto-lock or non-lock slider, making them suitable for a range of garment and accessory applications.
---
For more information on how you can integrate aluminium zippers in to your garments and accessories, drop us an email.
To see our full product range of garment labels, trims and packaging, visit our website.